Took the engine/transaxle out of my recently-acquired 1954 11BL. When I split the transmission from the block, I saw this.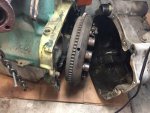 The clutch and pressure plate appear to be ID/DS, but the flywheel is nothing like anything I have seen. Any speculation why the flywheel was so extensively modified? The back of the flywheel has about 25mm of clearance with the face of the block.
Will an ID/DS flywheel fit inside the 11BL clutch housing without modification or is that the reason for the conical taper at the end facing the transmission?