Swapped out the rims on the weekend at Michael's place for the Safari - to ensure I have a set of the 2 hole rims that are correct for 1964.
I now need a set of hubcaps. The correct ones I am after are 190mm diameter with the button in the centre, as per the photos.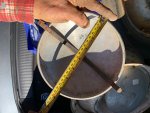 A quick hunt around the usual websites and eBay sites in Europe offered ID hubcaps, but larger, flatter 212mm ones that don't sit as well inside the rim as the 190mm ones do...
this is what I am after: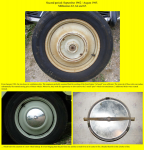 Has anyone ever seen those smaller diameter ones for sale? Or bought some?
Appreciate any leads. Sven