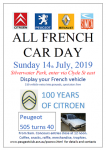 The Sydney French Car Day is hosted jointly by the Citroen, Peugeot, Simca and Renault car clubs of NSW and will be held on Sunday 14 July 2019, at Silverwater Park, from 9:00 am. Entry via Clyde St east. This is the same venue as in past years.
All French vehicles, including motorcycles, of any age including veteran, vintage classics, modern, not so modern, daily drivers, not so daily drivers, sporting, rallying, touring, are welcome. Any vehicle shown can be trailered. Entry classes arranged on the day.
The entry fee of $10 into the grounds is to recover the cost of the hire of the field. This fee includes entry to the concours if you would like your car to be judged.
If you would like to enter your car in the concours, the cut off time is noon. Please be there well in advance of that time so that the judges can arrange their inspections.
Each marque will judge and enter its best two cars into the final judging against all other marques. From those finalists, whose owners are expected to be a member of a car club, will be selected the best French car on the day.
Any owner is welcome to enter a car in the general concours and be judged and be eligible for a category win.
Trophies presented as early as practical, and raffle prizes on the day.
There will be an award each for the best French dressed male and female, and for the furthest travelled to the event.
For further information ring Ross on 0499 708 108 or Chris on 0412 306 504, or your club representative.