2001 Peugeot 306 Rallye Hatch White 5 door 2.0l 5 speed manual 149,000kms original - last of the fabled 306's
Pikkies here =>>>
https://www.gumtree.com.au/s-ad/upp...pared/1250884180?edited=true&posttoebay=false
Registered until Nov 2020 and will have safety certificate on sale
Asking $6500 for this enthusiast's and collector's car - no accidents and likely the best 306 per mechanical condition you will find.
Add up the spend and the asking price is not unreasonable.
3 Owner car, always garaged, with full (from the very beginning) service history and many parts replaced and/or up-rated in the last few years including:
- all (yes all) engine sensors including the O2 sensor (made a big difference to engine responsiveness and fuel economy - typically 600km out of a tank of fuel mostly city driving)
- ignition coil pack and spark plugs
- speedometer sensor
- clutch, pressure plate, thrust bearing and clutch cable
- uprated front wishbone bushes and sway-bar drop-link
- wishbone ball joints
- air conditioning compressor, filter-dryer and re-gassed - works beautifully
- climate control including heater works perfectly
- timing belt and water pump replaced every 4 years on the dot
- uprated lightweight alloy crankshaft pulley and timing belt pulleys with long-life replaceable bearings
- uprated alloy gear-shift linkages with spherical ball ends
- top engine mount replaced 2017
- uprated radio cassette with hands-free phone function
- gear knob - Peugeot original
- both thermo fans
- fuel pump and fuel filter
- driver's door power window mechanism
- brakes as needed
- front door panel speakers - surrounds on the old ones had perished
- all instrument panel bulbs
Serviced by the pros at Euroserve - nothing they don't know abut Pugs.
Always run on Shell 98.
Potenza RE003 tyres with few kms on them.
The car is responsive to the throttle and drives absolutely beautifully - just as a 306 should.
Body and interior are nice but what you would expect from a 20yr old car.
Box of spares including old sensors (all still function), gear linkages, original stereo etc.
Both keys.
No low ball offers please - this is an enthusiast's car with all the hard work done at no expense spared.
The car is just run in, it's to drive and enjoy with nothing more to spend for the foreseeable future.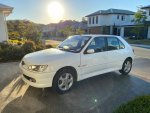 Last edited: