It's a new year, happy or otherwise given the bushfires all around, and the Renault Round-Up is on again in February.
We've taken it back to the Caribbean Gardens where it was a couple of years ago and it's on Sunday February 16th. Display cars to arrive form 8:30 am, show formally opens 9:30am and ends 3pm give or take.
It's open to all Renault vehicles and Renault-powered vehicles; heck anything that can stretch a distant bow to anything remotely Renault can come and display! The Renault Car Club of Victoria is hosting the event but you don't need to be a club member to come and display, or to be eligible for the concours awards (see flyer).
The Caribbean Gardens and Market is a great venue with something for all the family. It's a grassy, treed, shaded setting with shelters for whatever the weather. Playgrounds, theme park like rides, lake, miniature railway, etc for the kids and young at heart. 1000+ market stalls for those who like to shop and food and drink venues for all.
As a car show venue, it gets your pride and joy seen by a whole lot of people who wouldn't normally go to a car show to see french cars. Don't miss this opportunity to show off...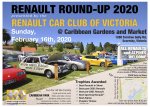 Last edited: