Anyone wanna come for a drive?
In organising the last event with the promotor, he hooked me up with a team in Victoria that was short a couple of drivers, Grumpy Racing.
He knew I was moving and it was a nice way to meet some folks down here before I moved back. Anyway despite their namesake, they are a pretty friendly bunch. They all travel down and stay at a hotel at Blacktown, drink and eat to much and generally were pretty merry.
They intend to enter 2x teams of 6 cars, and have space for 3x others.
For those unfamiliar with the event, its run over 2 days, with the competitive part of the weekend running for 6x hours on the Sunday. Each team can have 1x car on the track at any given time, and generally it works as a ~10mins on, ~50mins off type thing to share the track time around over the weekend. Each driver nominates how fast they want to lap, and points are awarded for getting as close as possible, hence, being regular
I enjoyed cruising down the main strait below "normal racing" speed, more or less the speed I felt comfortable going into Turn 1, and then going as fast I could via everywhere else,
It turned out to be a nice way to cool everything down lap from lap (myself included) and I had no trouble in my daily driver, a mighty white YV Commodore. Actually had a ball and fell in love it to be honest. I'm splurging with some fancy DBA pads and rotors now, might even put some nothalane bushes on it. Oooooooooh.
Car's need not be anything special, nor quick, as folks are generally well under racing speeds.. most of the time. Road registered is fine (as mine was) all you need is a helmet and to fit a $60 Super cheap extinguisher somewhere in the cabin.
The entry fee is shared via the members on the team, so you are looking at ~$450. The grumpy racing folk organised numbers and stickers and did all that crap as there are a few personalities that seem to enjoy the logistics so it works well
I turned up, put stickers on my car, did my helmet up, and that as much organising I needed to do.
Here is half of them at the end of last years event, see, normal looking dudes!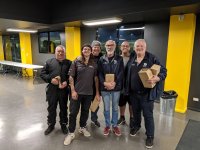 Anyway, if you feel like you've always wanted too, I'll be your friend! You'll have fun. PM me and I'll put you in touch with the teams secretary / facebook group so you can get a second opinion. Otherwise, get some frenchies together and enter a team! Just imagine having a team of 6 x 2CV's, 6 x 604's 6 x Renualt 12's (but of course) Oh how magical it would be! Heck an Aussiefrogs 1.0 and Aussieforgs 2.0 team!