FIX for ELECTRONIC IGNITION KIT that FITS MOST BUT NOT ALL DUCELLIER DISTRIBUTORS:
The model distributors these readily available inexpensive $50-70 kits fit are listed but I'm sure many of the distributors will need some modification.
For vacuum-advance Ducellier 4-cylinder distributors with 2-piece, right-pivoting points only….Distributor inside diameter must be 59mm (2.32 inches)
Citroën
1965-66 4-cyl ID19 80cv 4944, 4175 Ducellier - 3DUC4U1
1965-67 4-cyl DS19 90cv 4169, 4177A Ducellier - 3DUC4U1
1966-70 4-cyl ID16 90cv 41401, 4188 Ducellier - 3DUC4U1
1965-72 4-cyl DS21 109cv 4155 Ducellier - 3DUC4U1
1965-72 4-cyl Pallas 105cv 4176 Ducellier - 3DUC4U1
1933-57 4-cyl Traction Avant 11 Ducellier - 3DUC4U1

DAF
1977-78 4-cyl 1300 Marathon with Ducellier vacuum-advance distributor - 3DUC4U1

Peugeot
1975-79 4-cyl 504 with Ducellier distributor DU-525101A - 3DUC4U1
1957-78 4-cyl All Models Ducellier - 3DUC4U1
1969-1974 Peugeot 504 series with 4-cyl Ducellier 161, 292, 300 distributor - 3DUC4U1

Renault
1957-77 4-cyl all models with Ducellier distributor - 3DUC4U1

Simca
1955-71 4-cyl All models Ducellier - 3DUC4U1

Ducellier 4-cylinder Distributors:
A96
B6B
C33
R238D59
R238-D59
R244D61
R244-D61
R251C34
R251-C34
R256C34
R256-C34
R275E3A
R275-E3A
R280C34
R280-C34
R280C52
R280-C52
R296C52
R296-C52
DU-525101A
R250D59 (4267)
R250-D59 (4267)
155
155D
161
169
175
176
177A
188
292
300
944
1401
4155
4155D
4169
4175
4176
4177A
4188
4291B (DY-010A)
4944
6605A
41401
525101A
525187B (R244D61)
525294A

I am no expert on Ducellier distributors except they don't have a split breaker plate like many other distributors so the points are moved relative to the cam, but hey someone who knows more might help further, if needed.
Seems most French vehicles had ignition points that were adjusted internally with some that adjusted dwell/point gap externally.

These kits do not fit the externally adjusted type without modification & frankly I don't see how they fit the internal type without a minor modification. viz...advance cam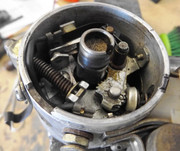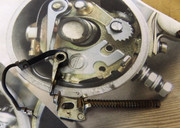 Picture 1 shows all the potential problems
Picture 2 & 3 shows the different types of distributor.
The major difference in both these distributors is the breaker plate BUT both types of breaker plate are interchangeable. That is with a little work.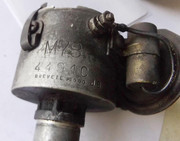 First find a Ducellier distributor without the external adjustment & remove the breaker plate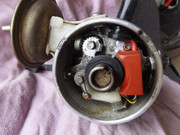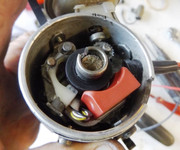 Remove the point adjuster & breaker plate from the distributor one wants to fit the EI to.
Replace this breaker plate with the one from the donor distributor. Fit the EI components.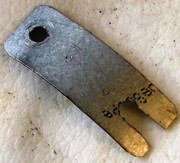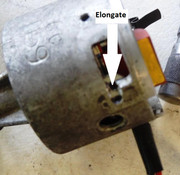 This new the replacement breaker plate with EI parts will fit easily but one of the distributor cap clamps breaker plate holes won't line up.
Carefully drill & elongate the distributor housing hole meant for this purpose. Use a clamp & screw from the donor distributor in the last breaker plate hole. purpose Make a small cover plate & with a gasket or silicone & fit to keep out dust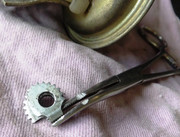 The only other thing I did was was remove a part of the vacuum advance adjusting cam as it interfered with the black reluctor. Most cams seem to be set on about the 4[SUP]th[/SUP] tooth so removing the upper end teeth should not affect anything.
Added edit:
It may be possible to reverse the cam & avoid removing teeth....I'm not sure?
I decided against this route as most elec shops don't have sun testers anymore & I decided to keep the same cam setting & spring tension on the vacuum diaphragm on the 4th tooth, as this distributor had originally.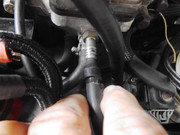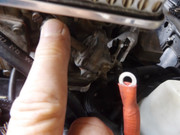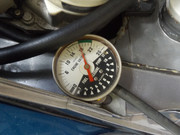 Re-establish correct timing. I use a vacuum gauge. Block off the vacuum advance & plug gauge into any port under the carburettor into full manifold vacuum.
@ idle, advance the distributor to get the best highest reading. Turn back [retard timing] maintaining that highest reading. Now turn back a little more until the reading is 1" of mercury less. e.g. In this case the engine was top @ 19" of mercury & set on 18" & clamped down.
Readings expected & good are in the 17-21" range depending on altitude & engine condition.
Timing should be spot on BUT take on road test & check for pinging [over advanced ignition timing]. Retard until not apparent.
Too far advanced sounds like shaking marbles in a can.
Hope this helps others & feel free to criticize [with appropriate reasoning] if I've missed anything, add to or comment.